You know how sometimes things just sneak up on you? One minute you have all kinds of time to get ready for an event or a project and then the next minute its right there…the deadline, time to get in the car, time to go, and you're not at all ready. Yeah. That was me yesterday.
I love holidays. Pretty much all of them. They're all a great excuse to cook fun food, break out fancy clothes, mix up specialty cocktails, decorate, dance, sing, throw a party. Got a favorite? Tell me what it is and I'll probably help you plan your celebration. So I'm kind of embarrassed to admit that I was a little bit of a slacker yesterday in regards to our Mardi Gras celebration.
In years past, I've baked King Cakes from scratch, fried up Chrusciki, and made giant kettles of Gumbo. This year I planned to go out to a local Mardi Gras party, so I didn't lay in the supplies to make a feast at home. But then, somewhere around 1pm, I realized I didn't feel like driving downtown (and back again) on a night the local 5-O would be out in force. So cue the Yakety Sax soundtrack! 4 pm found me and the Mister driving around town collecting up ingredients, and hunting down the few remaining King Cakes in our town. Nothing like fighting rush-hour traffic while driving all over the county!
Five shops and two hours later, we were back home with our supplies and got down to the business of cooking up our Fat Tuesday Dinner.
Now I've written before about how I view feasts as a necessary part of life. As long as we treat them as a special event, and don't turn every single day into a feast I don't think it's bad at all to indulge in rich foods, or (normally excluded) treats like King Cake, Paczki, crusty baguettes, and delicious cocktails. And that's just what we did. Of course I can't eat wheat even if I want to, but I definitely encouraged everyone else to eat as much bread, cake, and pastries as they wanted.
But before we got to the sweets, we had one of my favorite meals—Crawfish Étouffée SWOON! So rich. So tasty.
I'm not sure how those little critters manage to taste so damn good, but I'm sure glad they do. Back when I lived in Baltimore, I used to meet up with a friend downtown and we'd feast on Crawfish Salad at a little seafood market near his house. Just crawfish tails and a little mayo, a little lemon juice, and little secret spice. Perfection. We'd also go to an annual Bug Boil put on by a local legend, and we'd stuff ourselves full, dance it all off to the Zydeco band, and go back for more. Good times.
Can you tell I like Crawfish? Call 'em whatever you want: Crawdads, Crayfish, Bugs, doesn't matter to me as long as you have enough to share.
So last night I was happy to whip up a big batch of Étouffée starring those menacing looking creatures. I mean let's be honest, as delicious as they are they're not too pretty. And they'll happily pinch the #@$% out of you if they get the chance. Luckily, you can avoid the less amusing aspects of cooking them up if you buy frozen tail meat, which is pretty widely available nowadays. We usually get them live when we can find them, but last night we went the frozen route and I didn't detect any loss in flavor or texture. And as usual, I made way too much food so I get have leftovers for dinner tomorrow! WINNING!
If you haven't had Étouffée before you might be wondering what I'm talking about, and why I made it for Mardi Gras anyway.
There's a lot of different cooking traditions that all come together down in New Orleans and these three dishes are great examples of the influences that give NOLA and the surrounding areas their unique flavor. You've got French, Creole, Cajun, Caribbean, Spanish, Native American, and African flavors featured prominently in NOLA cuisine and the Big 3 (as I like to call them) show off all those to a tee. Here's a quick and dirty primer.
Gumbo. Everyone knows about Gumbo thanks to Justin Wilson and Emeril Lagasse, and that's often the go-to dish if you're doing a New Orleans themed dinner. It's pretty easy, and you can use whatever proteins you like, or as one NOLA chef once told me, "Mama used whatever critter wandered into the backyard on Gumbo makin' day". The only thing you absolutely MUST have in a Gumbo is good slow cooked roux. That's what thickens it up and gives is such a rich flavor. You can mix and match seafood, poultry, mammals, amphibeans, sausages, and even tomatoes are optional…but you gotta have a roux. Once your roux is the right color, you can pour in your stock, and simmer your Gumbo all day if you want. When you're ready serve it up over white rice and have some good french bread for sopping up the broth.
Jambalaya is also pretty well known and features a lot of the same flexibilty as Gumbo. The big differnces between those two are the absence of a roux in Jambalaya, and the addtion of rice to the cooking pot. Whereas Gumbo is a soup and served OVER white rice, Jambalaya is more like a wet paella, with the rice cooked in with the proteins and stock. The rice also acts as a bit of a thickener so Jambalaya is less liquid than Gumbo. Top it with some chopped green onion and a little hot sauce…mmmm.
Now Étouffée is a different animal altogether. First off Étouffée uses only one type of seafood at a time, and it's ALWAYS seafood. You can do shrimp, crab, crawfish, whatever you like, but you can't mix it all up together. Pick one per batch. Second, you don't use a roux. This is a butter based dish. You know I love butter. And unlike Gumbo and Jambalaya, this dish comes together pretty quickly. Not having to cook a roux really saves on time. Of course this still uses the holy trinity of onions, celery, and green peppers (or in my case red bell peppers) along with spices we typically associate with Cajun cooking, so flavor profile-wise it's very much in line with more familiar dishes. And, you serve it over rice to soak up that yummy butter sauce. So good.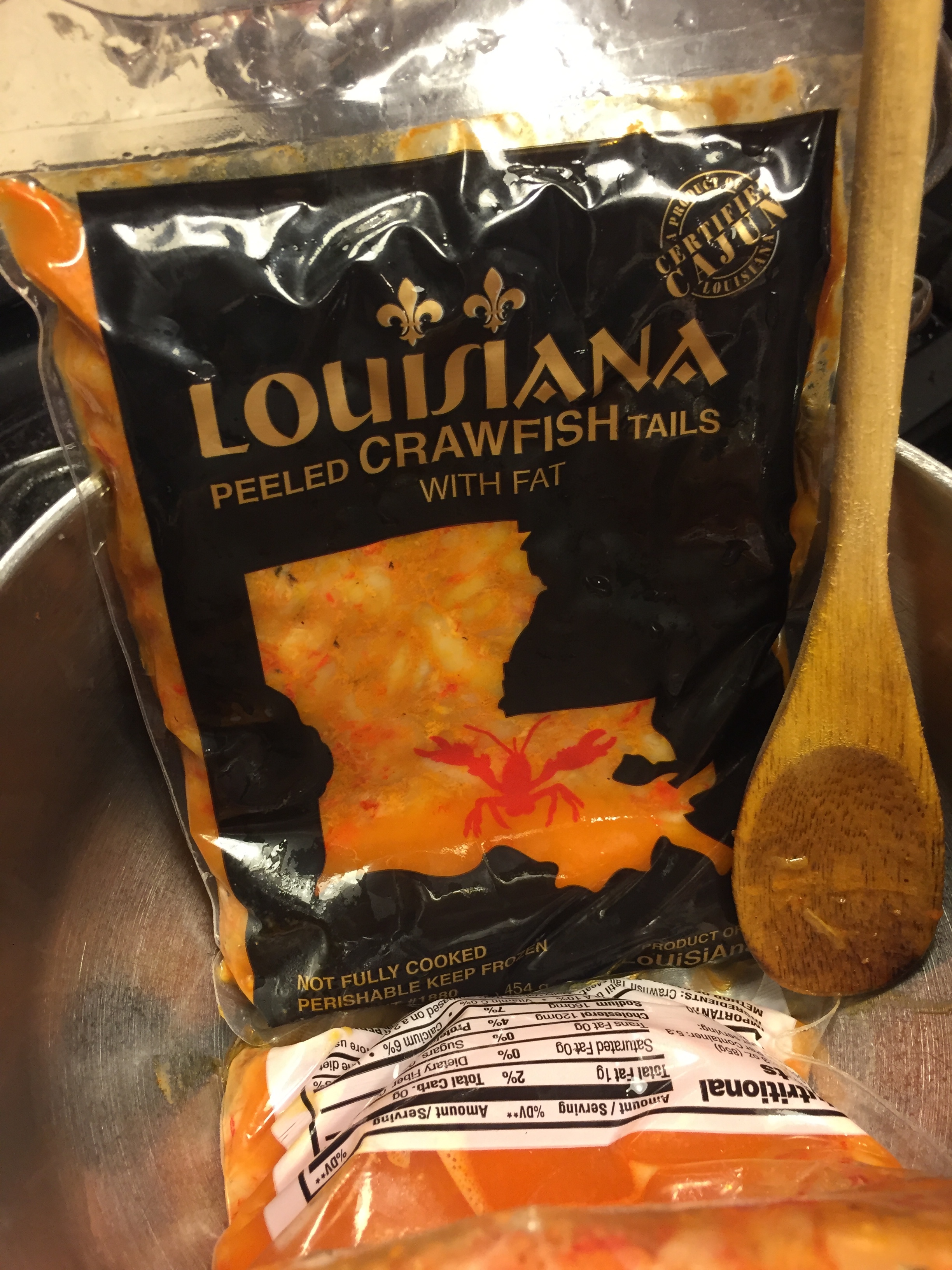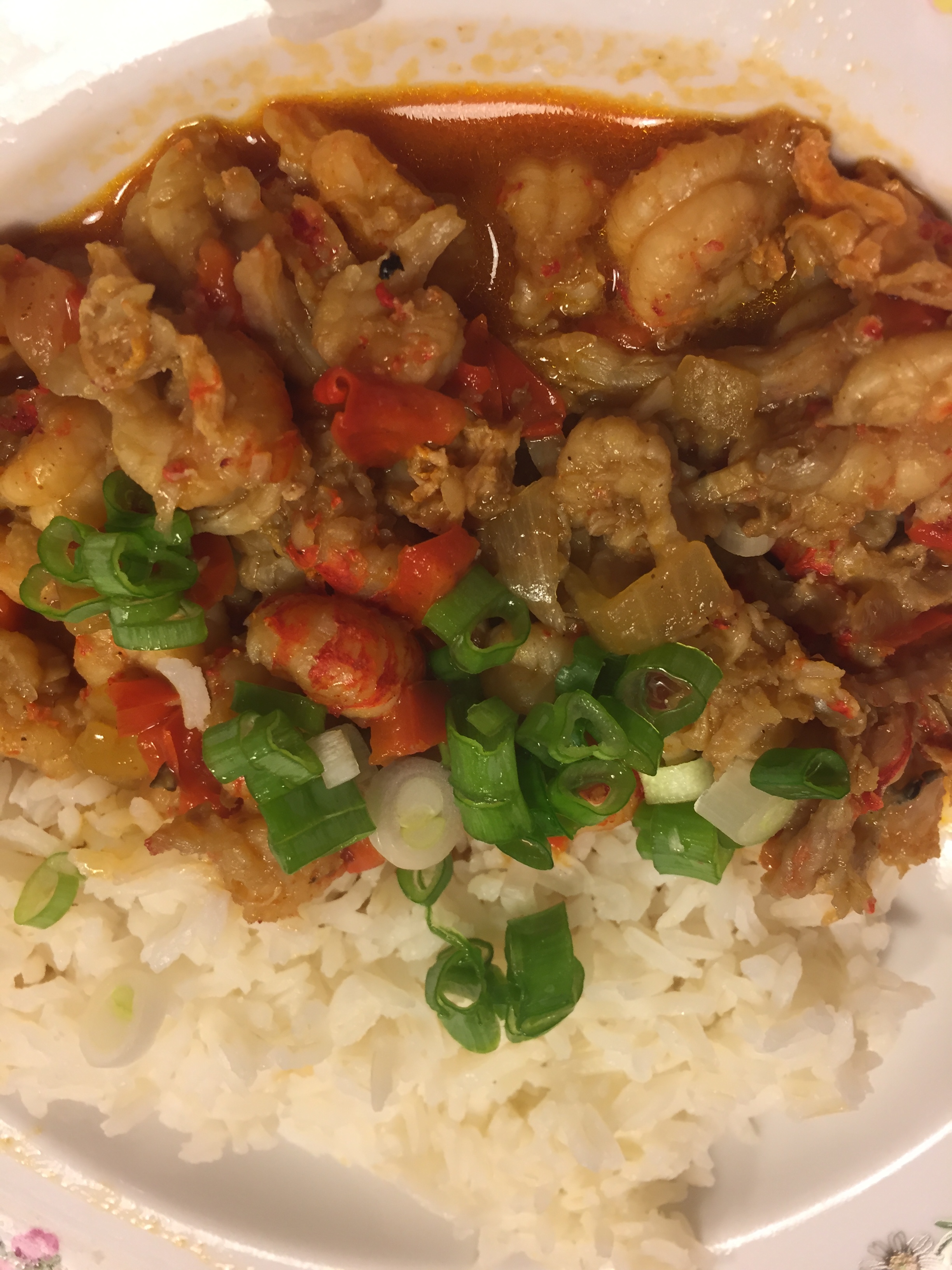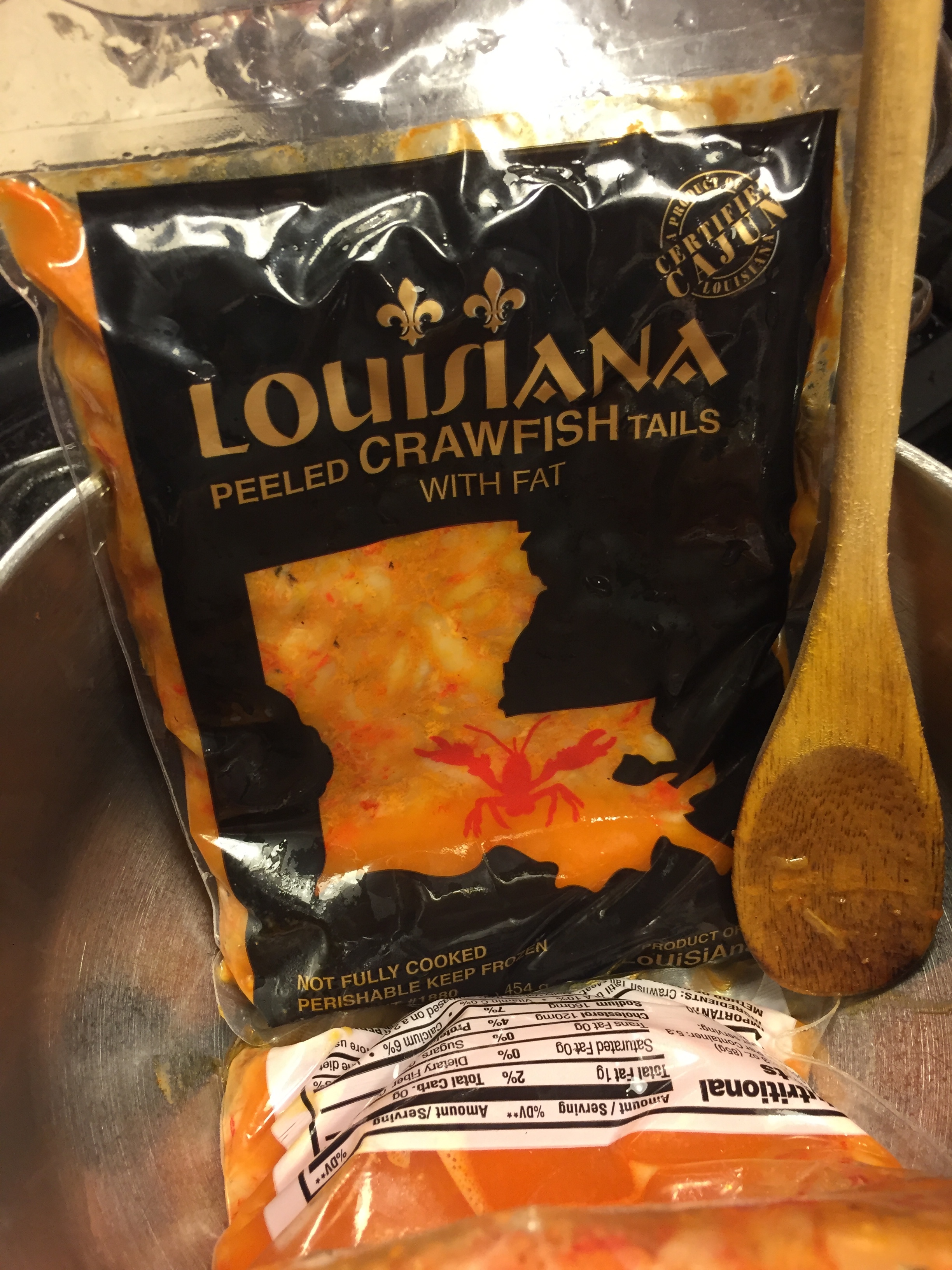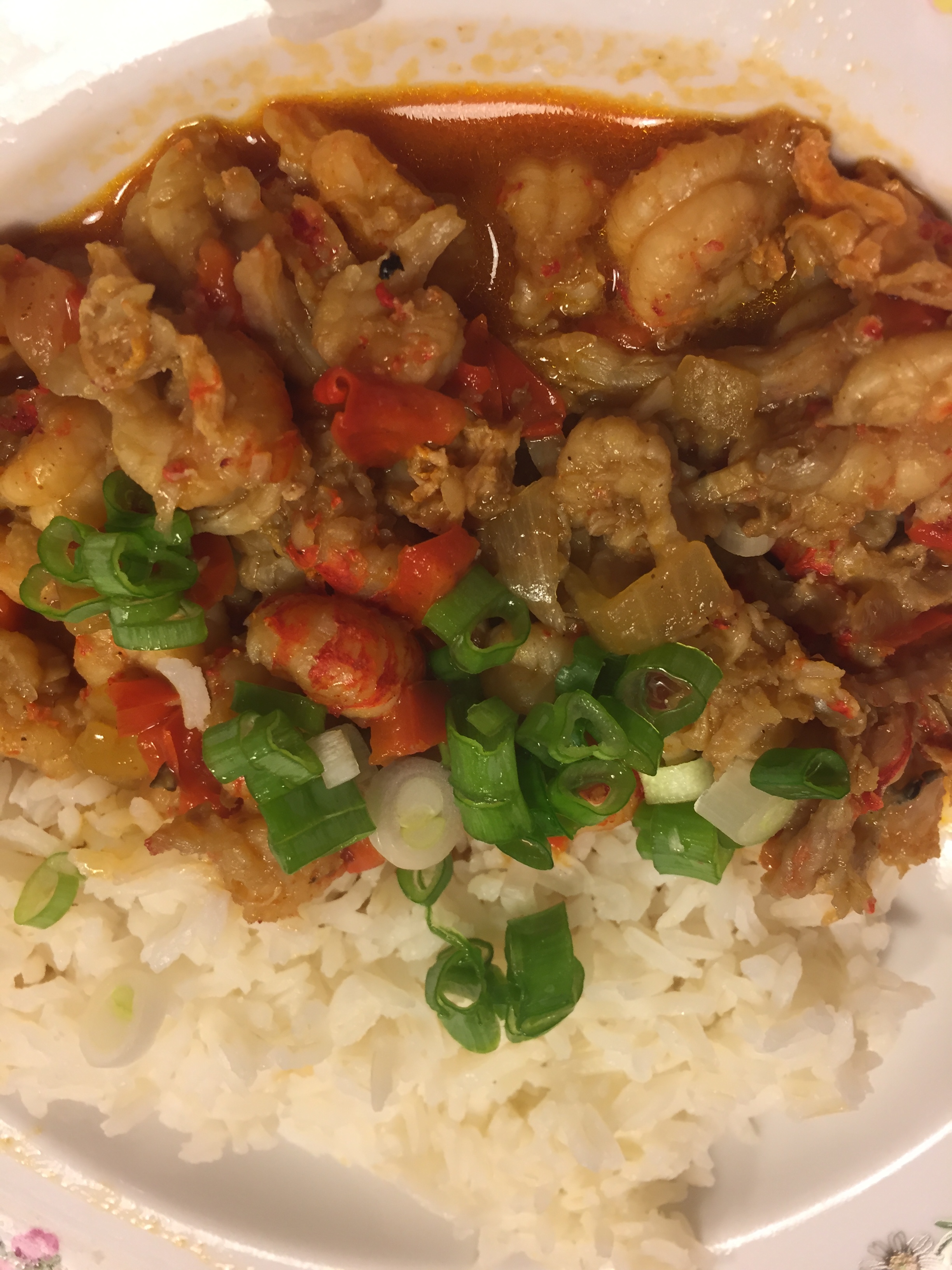 Ready to try it? Mix yourself a nice Sazerac and get to it!
Down East Étouffée
4-6 servings
Ingredients
2lbs crawfish tails fresh or frozen (thaw if frozen)
1/4 lb butter (I like Kerrygold)
8 oz seafood stock or clam juice
1 Tbsp Corn Starch or Potato Starch
1 cup yellow onion, diced small
4 garlic cloves, minced
1 green or red bell pepper, seeded and diced small
1 celery rib, diced small (can use 1 tsp celery seed if you can't abide cooked celery)
Sweet Paprika
Smoked Paprika
White Pepper
Black Pepper
Cayenne Pepper
Thyme, ground
2 Bay Leaves
2 Scallions, chopped
Method
In large heavy bottomed skillet, melt the butter over low heat. When the butter has melted completely add the onions, garlic, and bell peppers to the pan and stir. Allow the mixture to sweat until the onions are very soft and translucent, and the peppers are soft. Stir occasionally to prevent sticking. While the peppers, onions, and garlic are cooking mix up a blend of the spices. How much of each you use is up to you and your tastes. I like a smokey flavor and a fair bit of heat so I use a bit more Smoked Paprika and Cayenne than you might like. Be creative. You can always add a little more of spice before you finish cooking the dish. When the onion mixture has sweated down and is soft, add your spices to the pan and stir to combine. Add the Crawfish tail meat to the pan and stir to incorporate. Dissolve the Cornstarch in the Stock or Clam juice and pour into the skillet. Add the bay leaves. Increase the heat to medium and stir while allowing the liquid to come to a high simmer. Allow to simmer for 5 minutes. Taste for seasoning and adjust as necessary.
Serve over buttered white rice, and top with chopped scallion and hot sauce if desired.
BOOM!
Sounds good doesn't it? And don't worry if you can't find Crawfish. You can use shrimp (peel and devein first!) or crabmeat. I've even made this with Tempeh back in my vegetarian days. We drank a dry California red with this, but you could easily pair it with a full bodied white as well. If you eat bread, a crusty baguette and good butter make a nice accompaniment along with a simple salad. Even though Mardi Gras is over, this could turn any night into a celebration.
Let me know if you make this…and how you made it YOURS.
Thanks for reading.